It's Word of the Year season, and two British dictionaries are leading the pack. Collins picked lockdown – a word we threw around here in the US but never experienced the way they did in the UK and elsewhere. (A friend of mine is literally confined to her London apartment after spending a month in France: she can't go outdoors at all.) And Oxford Languages, publisher of the Oxford dictionaries, chose a phenomenon instead of a single word: the impact of the COVID-19 on language. "What struck the team as most distinctive in 2020 was the sheer scale and scope of change," Katherine Connor Martin, the company's head of product, told the New York Times's Jennifer Schuessler. "This event was experienced globally and by its nature changed the way we express every other thing that happened this year."
"Social distance": sign in an Oakland produce-store window, May 2020.
*
The American Dialect Society was to have convened in San Francisco for its annual WotY vote, but then You Know What happened, and the event will be virtual. You can sign up to "attend" on Thursday, December 17, from 4 to 6 p.m. PST—it's free—and you can nominate up to five words (or "lexical items"). I'm still working on my list.
*
What will be the name of the year? Submit your nomination to the Namerology blog. (Last year's winner was Karen.)
*
The UK edition of Elle magazine reports on the "problematic" use of urban in fashion. I wrote about urban more generally in 2009.
*
Speaking of urban, "yuppie" emerged in the late 1970s as an acronym for "young urban professional." Now The Guardian is writing about the rise of the yindie: "young ironic nostalgic dresser." The trouble with that coinage is that there's a competing definition of yindie: a blend of yuppie and indie or, as Urban Dictionary put it back in 2007, "a hipster with a day job."
*
One brand to rule them all: a 36-by-24-inch poster of what the artist claims is "every ACME product, ever. 126 drawings of explosives, gadgets, rockets, and more! SI watched every Coyote and Roadrunner episode, then hand drew all 126 wacky gadgets, explosives, and items that appeared in the cartoons."
*
The words "Trump" and "library" don't juxtapose comfortably, but that hasn't stopped a determined (and anonymous) team from creating the Trump Presidential Library. This hypothetical institution has a grift shop, a Hall of Enablers, and an Alt-Right Auditorium. "This is a work of satire and/or parody," the creators—a team of architects, curators, writers, designers, "and general trouble makers"—inform us.
*
I hadn't realized that Tab diet soda was still around, so it came as a surprise to learn, in October, that Coca-Cola was discontinuing the product after 57 years. In an essay for Jezebel, Emily Contois, author of a book on gender and power in food culture, considers the history of diet sodas and how they've been marketed. Who remembers Patio Diet Cola from Pepsi, whose ads featured TV fitness personality Debbie Drake?
1966 print ad for Tab, via ClickAmericana

*
How do you pronounce schism and schedule, and why? James Harbeck with a video explainer.
*
I'll read anything—anything—written by Susan Orlean, which is something I can say about only a handful of writers. (A few others: Adam Gopnik, George Packer, James Poniewozik.) Now Orlean is writing a memoir, which of course I will read and also writing about the biggest writing challenge she's ever faced, which I've read and recommend.
*
And now a few verbs about the incoming administration:
Biden, Blinken, Yellen — what is this, a gerundocracy?

— A.J. Bauer (@ajbauer) November 23, 2020
*
Grippe chic: Mucinex, which makes over-the-counter cold remedies, is branching out into "sickwear."  Watch the video.
*
Whatever happened to SkyMall, the catalog that used to nestle in every airplane's seatback pocket? The company filed for bankruptcy in 2015 and is now online only, a shadow of its erstwhile gadget-palooza self. Whet Moser traces the company's history in an article for Marker that's full of interesting tidbits like this one: "SkyMall was able to move online early thanks to Steve Jobs's NeXT, the company he founded after being pushed out of Apple in 1985. One of NeXT's's creations was a framework for developing online apps called WebObjects, which greatly simplified the programming needed by web developers and predicted how contemporary toolkits would work. SkyMall was one of the 275 companies to buy the $50,000 software, and consequently caught the first big internet boom."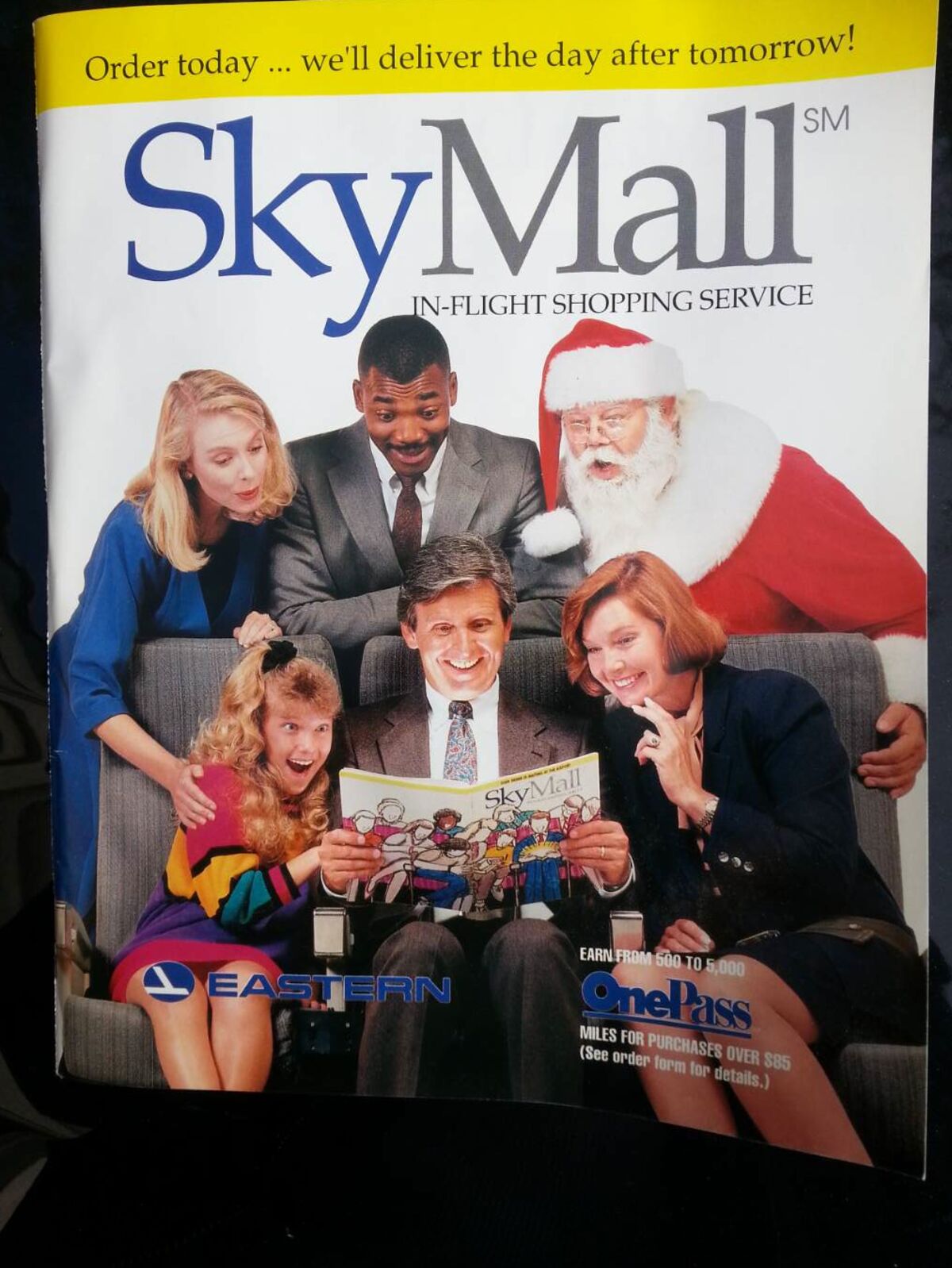 The first SkyMall cover (1990). Via Bloomberg