Chapulling: A term used by Turkey's anti-government activists to describe their peaceful demonstrations. A transliteration of Turkish çapulcu ("looters," "marauders," "bums") combined with an English verb ending; pronounced with the second syllable stressed. According to Google Fight, the English transliteration is much more common on the Internet than the Turkish original.
Reporting from Istanbul on June 10, the Guardian's Luke Harding wrote:
When demonstrators first took to the streets to protest against the Turkish prime minister he branded them çapulcu…

But Recep Tayyip Erdoğan's attempt to demean his opponents has backfired. Protesters in Istanbul and other cities have embraced the word as their own, labelling themselves proud çapulcu and even coining an English verb, capuling.

Pronounced chapulling, with the emphasis on the second syllable, it has become synonymous with the alternative, youth-driven anti-Erdoğan movement. Students sleeping under the plane trees in Gezi Park, Istanbul, have dubbed their makeshift camp Capulistan, with many mounting cardboard signs next to their dwellings that read "Capul residence". Meanwhile, the city's must-have fashion accessory is a white T-shirt with the slogan: "Every day I'm capuling".
The slogan apparently plays on the line "Every day I'm shuffling" from the LMFAO song "Party Rock Anthem" (pointed out by Ben Zimmer in a comment on Language Log; see embedded video). "Party Rock Anthem" was in turn influenced by the 2006 Rick Ross song "Everyday I'm Hustling" (noted by Connor Adams Sheets in his International Business Times story about chapulling).
The reclaiming (or reappropriation) of a disparaging term, in this case çapulcu, has a long history: see, for example, queer and slut.  
 At least one additional neologism has gained currency as a result of the Turkish protests, which began in late May: Resistanbul. The blend of "resist" and "Istanbul" has gained acceptance outside Turkey; the photo below (via the Guardian) was taken in Milan.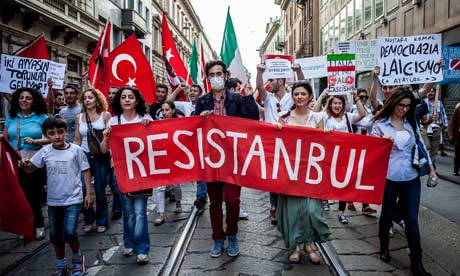 "Resistanbul" is older than the current demonstrations, however: a Resistanbul blog ("Direnistanbul" in Turkish) was launched in 2009 to protest the meeting of the International Monetary Fund and the World Bank in the Turkish capital.
See also my 2012 post on hooliganism.