I follow shoe trends pretty closely, for personal and professional reasons, and I've read a fair amount about shoe history. I know that since the beginning of time there have been only a finite number of shoe styles; all the rest is variation. (Even the briefly ballyhooed flatforms of Spring/Summer 2011 were just catchily rebranded Renaissance chopines.)
Which is why, when I started seeing references to something called "smoking slippers" a little over a year ago, I was more skeptical than surprised. I recognized the shoe style; it was the name that was completely new to me.
Yes/No smoking slippers from Stubbs & Wootton.
The earliest reference I could find to "smoking slippers" was in a March 28, 2011, WWD Footwear News article that declared smoking slippers to be a "must buy":
The message for fall is about leisure and luxury, as the classic smoking slipper returns in rich velvet and suede, with quirky embellishments such as embroidery and rhinestones.
In July 2011 the ShopBop blog echoed the imperative in that very special dialect of English known as Fashionspeak. The smoking slipper is a "best bet" for fall, said ShopBop:
It comes with fashion's return to the leisure class, and thanks to the industry's obsession with androgyny, ladies are wearing the footwear once reserved for cigar-puffing, scotch-swilling men in velvet jackets.
I believe we're meant to picture Hugh Hefner.
Image from ShopBop blog.
Smoking slippers circa 2011 were made of soft fabrics or plush leathers such as suede and haircalf. They looked casual yet luxurious, and definitely more covered-up than fashion's previous footwear "obsession," the ultrafeminine, barely there ballet flat.
You'll notice that these smoking slippers share a distinctive profile: a raised vamp with a slight notch where it meets the side of the shoe. In standard footwear parlance, that qualifies them as Venetian loafers.
Now, that was a term I was familiar with. Venetian loafers have been a standard men's style for years (see Robert Zur, John Varvatos, and Prada). Lands' End uses "Venetian" to describe its women's versions, too. It's unclear why Venice is implicated; I once read something about the raised/notched vamp resembling the prow of a Venetian barque, but I've since been unable to find that reference. ("Loafer" to describe a shoe style has nothing to do with laziness, by the way: the word comes from German läufer, meaning "runner." And "slipper," at least in the US, usually means "house slipper.")
"Smoking slipper" wasn't the only name invented for this new/old style. Throughout the autumn and winter of 2011 I saw almost equal numbers of references to "smoking flat" and "slipper flat." They all referred to the essentially the same thing.
Just as the name was solidifying, in the summer and fall of 2012, the criteria for "smoking slipper" began to relax. The style suddenly seemed to be everywhere, including on discount sites, and it covered a lot of fashion ground.
"Smoking slippers" on sale earlier this week at Neiman Marcus Last Call. All except the shoe at far right share that raised/notched vamp. The snake-print shoe is more accurately called a piped plain-toe loafer.
Soft, slipperlike materials, yes – but also leathers suitable for venturing outdoors, not to mention biker-chick embellishments.
Earlier this month, the Wall Street Journal's fashion reporter, Christina Binkley, called smoking slippers "power flats":
A big look for upcoming seasons: smoking slippers, which begin where Cary Grant left off, puffing on a cigar before the fireplace. While the traditional velvet of smoking slippers might be too soft for power shoes, Stuart Weitzman and Elizabeth & James have them in sturdier materials such as patent, tweed and snakeskin. The look is wholly modern and fashion–forward.
There's that cigar again! Clearly, there's some connection between tobacco and these shoes. But what?
Well, there's the smoking jacket, defined in the 1850s by The Gentleman's Magazine of London as a "kind of short robe de chambre, of velvet, cashmere, plush, merino or printed flannel, lined with bright colours, ornamented with brandenbourgs, olives or large buttons."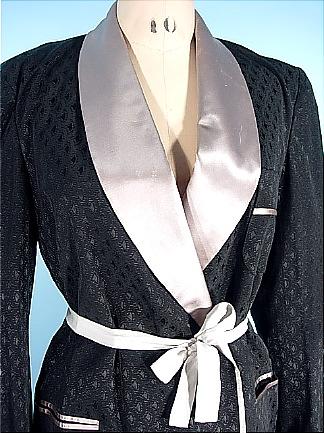 A. Sulka & Co. smoking jacket (1950) via Antique & Vintage Dress Gallery.
One can picture hard-soled, soft-uppered slippers, perhaps with a monogram or family crest, accompanying such a garment. Try as I might, though, I could not find any historical references to "smoking slippers."
The association of "smoking slippers" with women's fashion  may have more to do with the French couturier Yves Saint Laurent, who in 1966 introduced a women's tuxedo he called "Le Smoking." According to a Wikipedia entry, "In French and many other languages, the anglicism smoking is a generic colloquialism referring to any kind of tuxedo/black tie clothing."
And today's "smoking slippers" do resemble an item of men's formalwear.
It's called an opera pump. (Photo via SFGate; shoes available at Saks.)