The first presidential debate will be held tonight, in Denver; the general election is less than five weeks away. So it's time to ask a serious question: How are the campaigns shaping up tchotchke-wise?
*
At 7-Eleven stores in 34 states, you can let the caffeine do the talking – and the predicting. And you get to keep your cup as a souvenir. Last Friday, you didn't even have to pay for the coffee.
According to 7-Eleven's 7-Election website, President Obama cups have a substantial lead over Mitt Romney cups everywhere except Idaho and West Virginia.
*
Berkeley's family-owned Virginia Bakery is holding its own consumption contest. To cast your vote, buy a photo-decorated sugar cookie.
Guess who's winning?
According to a report on the Berkeleyside news site, the bakery has sold presidential cookies in previous elections, but this is the first time it's tracking the results. As one commenter observed, "Finally … a chance to eat the rich."
*
From tasty to tasteless:
This "Obama reusable cloth pantyliner pad," sold by Mimi's Dreams on Etsy, is "the perfect size for teenagers and petite women." Ladies, don't you want a muumuu made of that fabric? (Via Buzzfeed.)
*
Speaking of the curse, here's SNL's ad for g.o.b. tampons—made for women by the men of the GOP. ("Now with wings!")

The brand name is a parody of o.b. tampons, which were developed in the early 1960s by a German gynecologist, Judith Esser. "o.b." name is an abbreviation of "ohne binde," German for "without napkins."
*
And staying in the nether regions, Say It With a Condom is back with the 2012 edition of candidate condoms.
Obama condoms: "Intended to get the general public laid, not laid off."
Romney condoms: "For the elitist penis." Four years ago, according to my notes, it was the Obama condoms that made that "elitist" claim.
*
A concept only, but what a great concept: Barack Obama, the Blue Note years, from the British pop-culture blog Voices of East Anglia.

Lots more album covers at the link. (Via Girls of a Certain Age.)
*
The Sassy Gator, another Etsy seller, is offering this embroidered T-shirt in babies' and children's sizes for $20.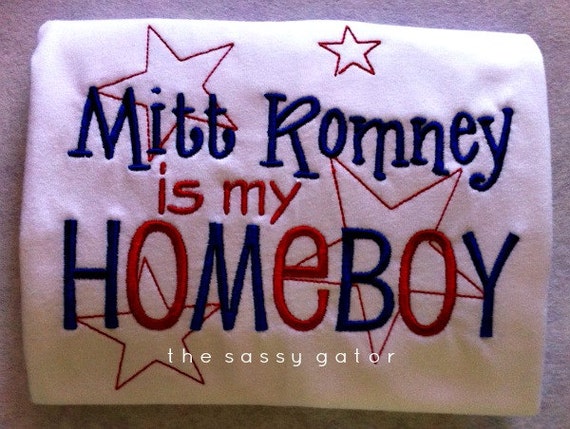 "Mitt Romney Is My Homeboy"
"Homeboy"? Really? A tip for Sassy Gator: Mitt Romney ain't your homeboy unless your home has a car elevator.
*
This Obama Birther Certificate Tray from Fishs Eddy* proved so popular that it's now backordered until December. 
Perfect for serving pupu to your Democratic friends … or crow to the Republicans.
Fishs Eddy is also selling this 10-ounce Barack Obama mug  and a companion Michelle Obama mug. Nothing for the competition except a Republican elephant puzzle.
*
Wish it would all just stop already? I feel your pain. And I have just the remedy: this political ice pack, available at Uncommon Goods.
Freeze, use,  repeat until Election Day.
___
* The story behind the Fishs Eddy name: "It was 1986 and we were driving around the back roads upstate New York (code for lost). We stumbled upon a small hamlet called Fishs Eddy. It was a perfectly odd name so we borrowed it for our just-opened shop near Gramercy Park."