In my new Visual Thesaurus column, I consider American "chips" vs. British "crisps."Access is restricted to subscribers; here's a little snack:
Pringles were invented by Procter & Gamble chemists who labored in the 1950s and 1960s to create uniformly saddle-shaped chips (hyperbolic paraboloids, if you want to get technical) that stacked neatly in an air-tight cylindrical can. Pringles were first sold in the US in 1968 as "Pringles Newfangled Potato Chips," but in 1975 the US Food and Drug Administration ruled that because Pringles contained only 42 percent potato, they couldn't be called "potato chip." As a result, Pringles became the first major US potato-snack brand to be marketed as "crisps." That led to a legal dispute in the UK, where Pringles were deemed not to be crisps, either. For a while they were re-relabeled "snacks," but today they're sold without any descriptive term at all.

(The origin of the Pringles name is a mystery, perhaps intentionally. One story has it that Procter & Gamble picked the name from a Cincinnati telephone book.)
Other Pringles name-origin theories: 1) The brand was named for Mark Pringle, holder of a patent for processing potatoes; 2) Two Procter & Gamble advertising executives lived on Pringle Drive in Finneytown, Ohio.
The Pringles brand was sold to Kellogg's earlier this year.
And as long as we're on the subject, the Pringles mascot has a name: Julius Pringles.
And here's a blog-only bonus: a 1987 Pringles commercial with the famous "fever for the flavor" jingle.
This 1950s commercial for Laura Scudder's potato chips stars company founder Laura Scudder (1881-1959) herself.
"The noisiest chips in the world."
Laura Scudder was a nurse-turned-lawyer—the first woman lawyer in Ukiah, California—who opened her snack company in Monterey Park (Los Angeles County) in 1926. When she sold the company in 1957, the Laura Scudder's brand accounted for more than 50 percent of the California potato-chip market.
Lay's was another regional brand—southern and southeastern US—until the 1950s, when TV advertising brought the chips to a national market. For many years, the star of the Lay's TV and print ads was Bert Lahr, who had played the Cowardly Lion in The Wizard of Oz. The campaign's long-running slogan was "Bet You Can't Eat Just One," but in its very earliest incarnation there was no "just." To my ear, "Bet You Can't Eat One" is a much wittier brain-teaser. Watch this early ad (sorry, can't embed it) and see for yourself. Lay's merged with the Frito Company in 1961 to form FritoLay; FritoLay merged with the Pepsi-Cola Company in 1965 to form PepsiCo.
American potato chips have a longer history than British potato crisps, but the Brits win points for flavo(u)r diversity. Meat flavors, virtually unheard of in the US, are very popular in the UK: When linguist Lynne Murphy wrote about chips and crisps in her blog, Separated by a Common Language, she mentioned steak and onion, chicken and thyme, and prawn cocktail crisps. Several of her commenters wrote with gusto about Cajun Squirrel, the winner of a new-flavor contest sponsored by Walkers. Then there's this Walkers holiday flavor, roast turkey with Paxo (a brand of stuffing):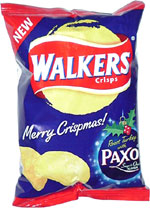 Merry Crispmas! Image via Taquitos.net. According to a footnote, these short-expiration-date crisps were sold in an Orlando, Florida (!), store.
Walkers Snack Foods, the UK's largest food brand, began making crisps in 1948 but traces its history back to a butcher named Henry Walker who started a meat-pie business in Leicester in the 1880s. Walker's, like Lay's, is now owned by PepsiCo.
Believe it or not, there's more. Read the Visual Thesaurus column!