*
Guest-blogging at Midlife Mixtape, Alexandra Rosas of Good Day, Regular People teaches us some useful Colombian idioms. I'm partial to ¿Y quién pidió el pollo? which translates literally to "And who ordered the chicken?" but is infinitely more versatile.
*
Moving north of the border now: Studio360Redesigns assigned Toronto-based Bruce Mau Design the job of rebranding the Canadian national identity. The Brand New blog reports on Mau's "Know Canada" redesign.
I think "Know Canada" is a brilliant slogan. Inexplicably, though, Studio360Redesigns conducted a separate contest, open to nonprofessionals, and chose a different slogan. I can't say I share the judges' enthusiasm for "Canada: We're Not Just Colder, We're Cooler." Meh.
*
"I call them the Liquid Names: they flow smoothly, like water down a glass streambed with no rocks or branches to impede its path." Baby Name Wizard reports on "a new class of girls' names" that has "taken hold in the past generation."
*
What if language magazines were sold at supermarket checkouts? Two hypotheticals, one from Mignon (Grammar Girl) Fogarty (pictured below), the other from an opinion piece by John McWhorter in theNew York Times.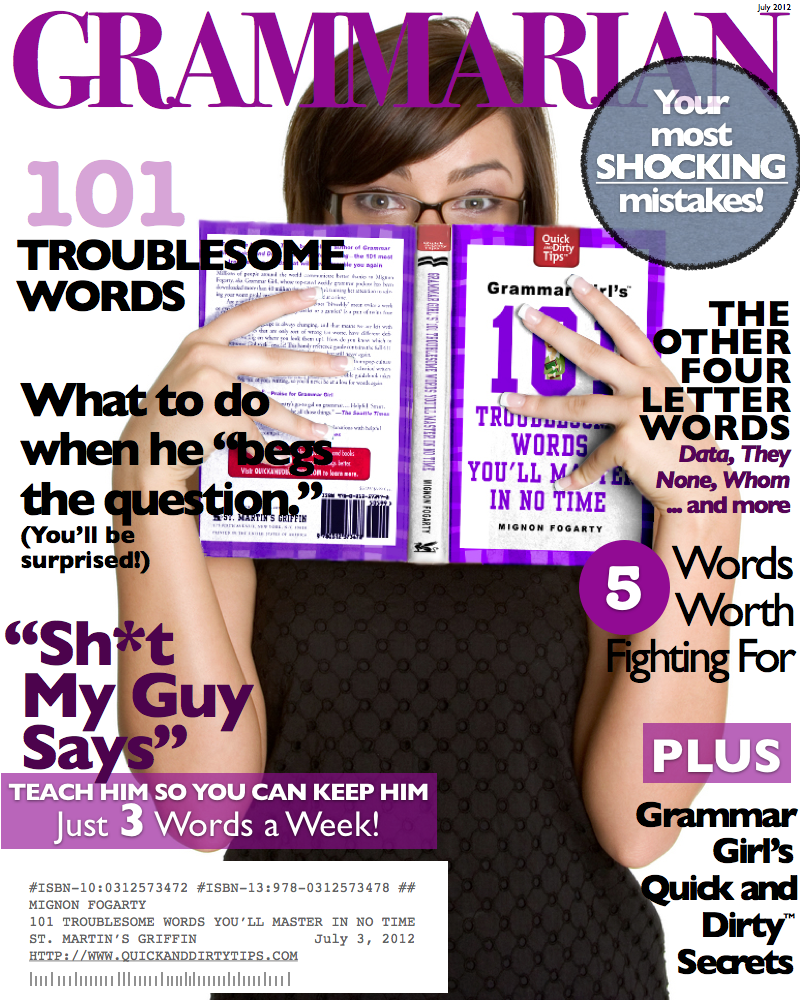 I especially like "What to do when he 'begs the question'."
*
"On Newsroom, every word is expertly crafted by an genuine genius of dialogue. In a newsroom, people alternate between exhaustion and caffeinated hysteria." And other differences between the HBO seriesThe Newsroom and an actual newsroom.
*
Need a rhyme or a near-rhyme? RhymeBrain is one of the better online dictionaries I've seen. (Hat tip: John McChesney-Young.)
*
Destination weddings, destination birthdays, destination funerals: How did "destination" become a modifier, anyway?
*
The Project Twins' illustrated dictionary of "unusual words,"     from acersecomic to zugzwang. (Via Culture Desk.)
*
This is swellacious: The Oxford English Fictionary, "Defining words that aren't real. Yet." (Via this tweet from Our Bold Hero.)
*
Spin magazine's list of the 40 greatest band names of all time. (Via@VerbID.)
*
How well do you know carny lingo? Trucker lingo? Show-biz lingo?
*
Q: What's the correct pronunciation of "Moleskine"? A: Whatever you like.