The Hyundai Equus evidently does not travel by way of Toidy-Toid and Toid.
Full-page ad, Time magazine, January 9, 2012.
I'll say this much: I stopped and stared.
As one would at a bridge collapse.
The reference here is to hoity-toity, a relatively rare modifier (and, occasionally, noun) that nowadays usually means "haughty" or "putting on airs." The expression dates back to the 17th century and may be derived, according to the OED, from the obsolete word hoit, "to indulge in riotous and noisy mirth." (Hoit is related to hoyden, a boisterous girl.) Toity was added for rhyming fun, in the word-forming process known as reduplication. (From The Phrase Finder's page on hoity-toity: "As with other reduplicated phrases, one word carries an existing meaning and the other is added for emphasis.") Hoity seems to have taken on additional shades of meaning because of its echo, in some dialects of English, of "high," and of the first syllable of the frequently misdefined hoi polloi. (It's Greek for "the common people," not "the upper class.")
So if toity is a nonsense word—or baby-talk for "toilet," or Brooklynese for "thirty"—then what does the Hyundai headline mean? "We're half-fancy"? Or maybe, "Pay no attention to the headline—just gaze intently at the photo"? I have no idea.
And don't get me started on Equus as a car-model name. Sure, it's no longer weird to think of cars being named for horses (see: Mustang, Bronco). But this horse? Neigh.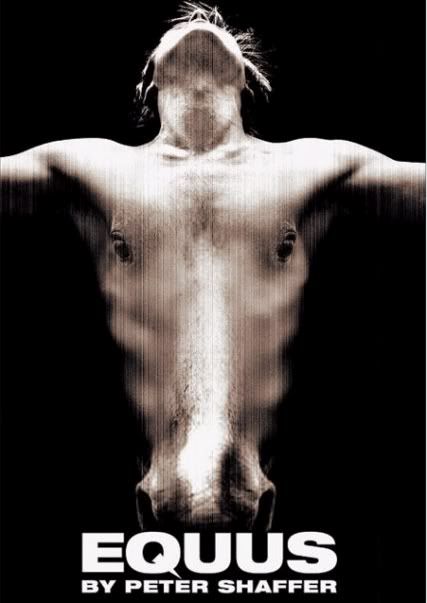 Well, the teenage patient in the play does sing a lot of advertising jingles.
By the way, did you catch the call to action at the bottom of the Hyundai ad?
Not to get all hoity-toity about it, but the word is spelled pretension, not pretention. No ifs, ands, buts, or "occasional variants." Pretension.