Yahoo's funky, funny, ever-changing billboard near the Bryant Street on-ramp to the Bay Bridge has been a fixture of the San Francisco cityscape since 1999. (According to TechCrunch, it has outlasted four Yahoo CEOs.) That astonishingly long run—for a technology company, anyway—will come to an end in two weeks, when the space "will be available," according to a spokesman for Clear Channel, "operator" of the display. The departure is "probably indicative of Yahoo's state of affairs, or the dotcom industry at large," the SF Egotist speculated.
Flickr photo by pbo31 (January 2005).
I estimate I've driven past the sign about a thousand times over the last 12 years, yet never realized that it was one of a kind. Or almost one of a kind—there were similar signs in Los Angeles and in New York's SoHo and Times Square, but none of them lasted as long as San Francisco's.
Photo from SF Egotist (2004).
Now, of course, I'm kicking myself for never having taken a single photo of the sign. Maybe this weekend…
Flickr photo by Chris Saulit (March 2010).
The "No" in the "No Vacancy" sign was always unlit.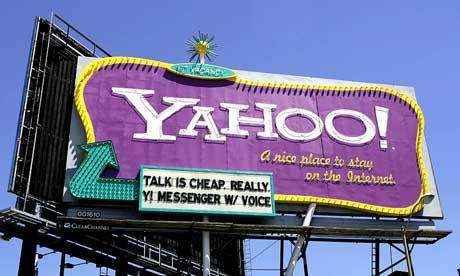 Photo from the Guardian (UK) (October 2011).
The agency that created the sign, Black Rocket of San Francisco, also created the "Do You Yahoo?" campaign, and the Yahoo yodel, in 1996. (The agency is now called Heat.) In an interview with SF Egotist, co-creative director Steve Stone and media director Robert Boyce talked about the origins of the billboard:
Steve: An art director named Aaron Allen came up with the idea. He and his partner, Aaron Stern, along with a bunch of other teams came up with a ton of ideas. Someone reminded me the other day that there was an idea that shot fire into the sky. I don't remember that one. My partner and co-creative director at the time, Bob Kerstetter, and I saw the idea Aaron had and we instantly loved it. It was a distinctive, permanent piece that had a physical element which instantly set Yahoo! apart from the other dot.coms who were putting up boards on the 101* pre-IPO.
Flickr photo from Fred Abercrombie (2008). (See Fred's photostream for a bunch more.)
There's a Save the Billboard page on Facebook. Nice try, folks.
Billboards come and go, but painted advertising signs are (almost) forever. Read about an MJB Coffee sign in Oakland that's been around, with a bit of spiffing-up, since 1910.
__
* That phrase looks peculiar to me, because I have never heard anyone in the Bay Area refer to US 101 as "the 101." As everyone knows, only Southern Californians use the definite article with highway numbers.